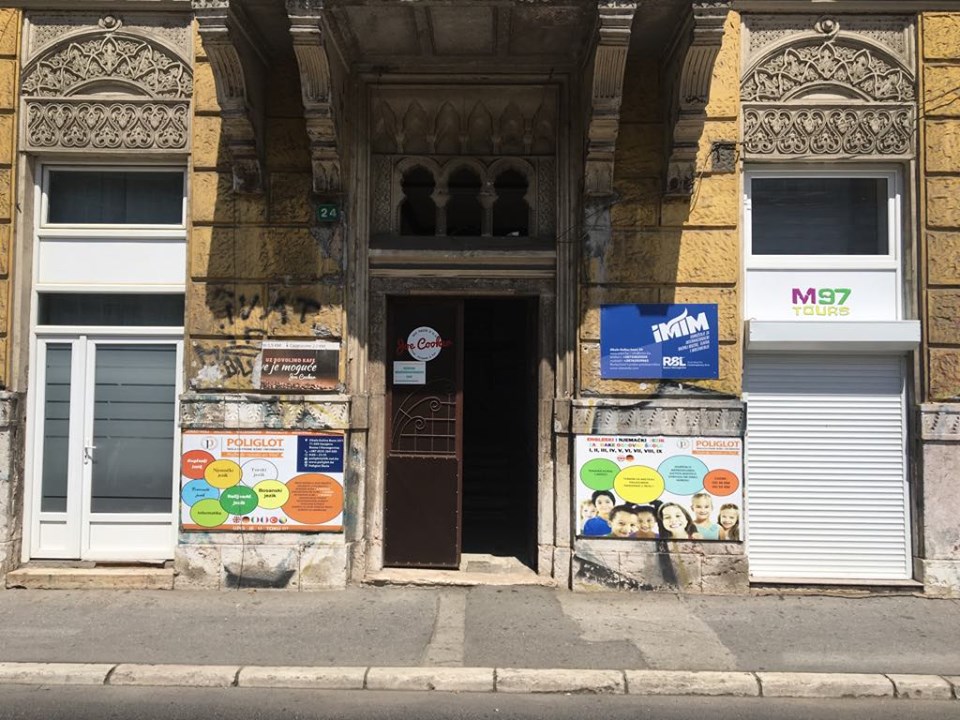 iMTM was established in Sarajevo as an NGO for international development of all forms of arts and training in the field of culture with the primary objective to develop education in the fields that do not exist in BiH. Cooperative and lecturing team of iMTM is consisted of active music professionals, professors and masters of music industry, as well as famous music professionals from around the world taking part in the organization of schools and workshops.
iMTM aims to promote arts with special emphasis on the development of musical theatre. In this area, iMTM produced Grease (2013), Footloose (2014), Dirty Dancing (2015), Annie (2016-2019), and Flashdance (2017) as well as children's plays Mravko Travko (2018) in cooperation with the Sarajevo Youth Theater, National theatre Sarajevo and finally Gala concert Broadway-West End musicals of the 80ties in co-production with BKC Sarajevo and in HKD Ivana Brlić Mažuranić in Slavonski Brod, Croatia. The projects were seen by over 10,000 people and 98 students of the University of Sarajevo, 108 children were educated through them.
In 2020, the project "No One But You" was produced, dedicated to the globally popular British music group Queen, and was premiered in Slavonski Brod, Croatia. Then in 2021, in the midst of the Covid 19 pandemic, the first live-animated musical called "The Musical for a New World" was created, premiered on BiH state television, which drew attention to the current problems throughout the world such as pandemics, depression, social welfare and migration. At the end of 2022, the "Children on the Move-Larger than life" project dedicated to migrants children all over the world, who were affected by war, was completed. This multimedia activist video project was seen by more than 120,000 viewers via online platforms, and it premiered on state television of Bosnia and Herzegovina. Finaly several concert performances of Cabare Nowadays, featuring musical numbers-showstopers from the world musical theatre repertoire, was seen by thousands people in Sarajevo, Kakanj, Visoko, Prnjavor and Konjic.
In the field of multimedia, iMTM deals with the production of original music projects, the organization of public performances and the promotion of local musicians. Within iMTM, there is also a label with exclusively domestic production, iMTM records, which aims to strengthen the domestic music and theatre scene with educated staff and quality music projects.
Located in Obala Kulina bana street, no 24 in Sarajevo, in cooperation with the Royal Academy of Music - London, iMTM develops an educational platform for the performing arts and offers intensive training for all those who are starting or want to continue their career in musical theater.
In January 2018, iMTM became the official representative of Rockschool London (RSL Awards) for the entire territory of Bosnia and Herzegovina. RSL program is internationally recognized and consists of eight levels of music education in the fields of singing, music production, musical theatre, acting, music instruments (guitar, piano, bass guitar, drums, violin, ukulele), music theory and modern dance (jazz and street).
iMTM in the educational field of "Multimedia" offers training for music producers and editors of radio and TV stations, recording music projects and audio promotional jingles, creating rtv audio-video design, DJing, as well as setting up Internet radio stations with the desired audio design.
IMTM staff are primarily B&H professors with many years of work experience outside the borders of Bosnia and Herzegovina, who were educated in England, America, Austria, Germany, France, Serbia, Croatia and Montenegro. iMTM gives young talents the opportunity to be educated in professions for which there has been no adequate education so far and help in employment in accordance with the acquired qualifications and market needs. The main goal of the education is to develop strong skills and to reach individual maximum and excellence of every candidate.
iMTM follows the world's music trends and technological development by offering education and training in modern contemporary rooms and studios as well as working on the latest and most popular music software and hardware. iMTM cooperated with EUSR, U.S. Embassy in BiH and British Embassy in Sarajevo on several projects in the field of musical theatre.
iMTM was recently visited by Anne-Marie Speed from London, double Oscar winner A.R.Rahman composer from India, Imtiaz Ali director from India, jazz singer Chris Bennet from America, music director Ryan T. Nelson from USA, guitarist Edin Karamazov, accordionist Merima Ključo, DJ David Morales, Frankie Knuckles, and many others. iMTM is active in the fields of training staff in the field of media, furthermore, it is successful in classic consulting, brand building and audio design projects, creating online platforms, iPTV channels, synchronisation of tv series and movies, etc.
Since its foundation in 2013 iMTM has been financially supported by the Ministry of Culture and Sport and Ministry of Education of the Canton Sarajevo, as well as Federal Ministry of Culture and Sport and Federal Ministry of Education and Ministry of Civil Affairs of Bosnia and Herzegovina, Municipalities in Sarajevo, City of Sarajevo plus various companies and art associations in Bosnia and Herzegovina. iMTM is the holder of many reference letters by the mentioned institutions highlighting the quality of its program, education and projects.
Based on collective references, most recently iMTM was given membership in the International Theatre Institute and UNESCO's Network for Higher Education in the Performing Arts and is the only representative of Bosnia and Herzegovina to date.